From October 21-22, the Iberoamerican University Foundation (FUNIBER) will participate in a meeting of the FINANCEn_LAB European project, which the institution leads, and which will be held at the Alexandru Ioan Cuza University of Iași (UAIC), in Romania. 
The project involves Jan Kochanowski University (UJK, Poland), TVW GmbH (Germany), the University of Valladolid (Spain), the Alexandru Ioan Cuza University (UAIC, Romania), and the Center for Research and Industrial Technology of Cantabria (CITICAN, Spain).
During the meeting, an evaluation of the digital simulator will be carried out and work will be done on the implementation procedures and conclusions. The next stage of the project will be: drafting of recommendations for financial education and the final report. The project will come to an end next year. 
Prior to the partners' meeting, on Thursday, October 20, between 16:30 and 19:00 (GMT+3), the multiplier event 'Entrepreneurial financial education and ICT-based tools' will be organized and hosted by UIAC, with participation of two project participants: Inna Alexeeva-Alexeev (FUNIBER) and José Manuel Breñosa (CITICAN).
This event, delivered in Spanish and English, will publicly showcase the intellectual results of the FINANCEn_LAB project to organizations in the higher education and vocational/adult education sectors, especially entrepreneurship support organizations, Chambers of Commerce and entrepreneurs. 
The event will be conducted in accordance with the common framework for Multiplier events and dissemination guidelines.
Those interested in testing their financial knowledge and learning more about the digital simulators to be implemented can visit the project's webpage.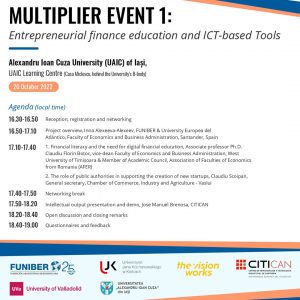 This project has been funded with support from the European Commission. This publication only reflects the views of the author, and the Commission cannot be held responsible for any use which may be made of the information contained therein