FUNIBER is attending this 26th and 27th September, in Faro (Portugal), the final delivery of results of the investigation for the European Project Energy IN TIME led by the Spanish company Acciona Construcción.
FUNIBER, among other activities, also participates in the management of international projects This is reflected in the Foundation's participation in the European Project Energy IN TIME as an active partner along with 12 European partners from different countries such as Spain, Ireland, Italy, France, Finland, Romania and Portugal.
The European Project Energy IN TIME, whose name references the automated actions of control and maintenance in non-residential buildings, aims to develop a control method based on an intelligent simulation in order to reduce energy consumption during the operation phase of non-residential buildings.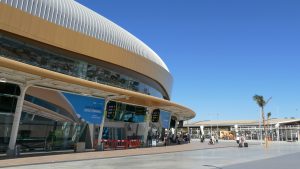 The project, which started 4 years ago, ends on the 30 of September of this year. In this regard, there have been a series of meetings during Tuesday 26th and Wednesday 27th September. On the first day, on September 26th, there have been an open event at the International Airport of Faro (Portugal) facilities, to inform not only the scientific, but also a general public about the development of the project, the most significant findings and their most immediate applications. In addition, it will be discussed the projections for the future that will enable to continue the lines started and to reinforce the experience and knowledge transferred. On September 27th, all partners/collaborators of the project have formally met with the representatives of the European Commission responsible for managing and reviewing this type of projects. These oral reports will be accompanied by the relevant documentation which will be delivered to the Commission via official channels.
FUNIBER values this experience as very positive since it contributes to the dissemination and transfer of knowledge; it also allows to share it with the different educational plans established in Spain and abroad.
Related links: